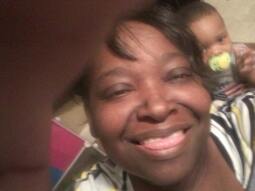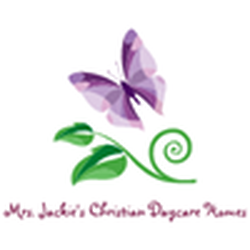 Welcome to 19/24 Child Care Homes office is located at coming soon in Kansas City Kansas ,Lenexa, Overland Park, Shawnee & Leavenworth Kansas. Now Serving Kansas City Mo & Independence Mo.. , The childcare is located at
We provide friendly, loving and caring services for children ages 1 years old - 5 years old. You need your young children to be looked after all the time and we understand that.. With full-time rates starting as low as
$125.00
per/wk, and special needs children $185.00 per/wk
Mrs. Jackie's Christen daycare homes
can accommodate most evening, late nights, or weekend child care scheduling needs.
Mrs. Jackie's
will also be providing Before School Care Service .
PLEASE ASK ABOUT THE SCHOOL SO WE CAN LET YOU KNOW IF WE ARE SET UP WITH THEM IF NOT WE WILL BE SOON!!!
transportation will be coming soon.
We specialize in evening and late night child care!
Mrs. Jackie's Child Care
operates seven days a week. You can choose the number of hours per day and the days of the week (including weekends) that best suit your work schedule. Mrs. Jackie's offers child care for ages 6 weeks to 5 years through the following programs:
Infant Program
Toddler Program
Before & After School Programs
Summer Programs For Children Up T0 5
---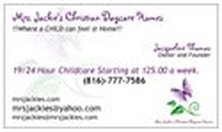 Now taking application for Independence MO. area only 11pm to 7am
NOW TAKING FOUR CHILDREN ON DAY SHIFT AND OVERNIGHT ONLY I HAVE 4 OPENINGS!!!! Independence AREA ONLY!!! 7am to 3pm and 11pm to 7am only!!!

NOW TAKING APPLICATION FOR KANSAS CITY MO. waiting list will open soon so please apply .
24 HOUR is ONLY available IN K.C.M.O.

FOLLOW US ON FACE-BOOK AND TWITTER

---
---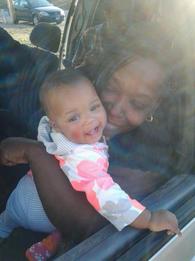 ---
MISSION STATEMENT
Mrs Jackie's™
is committed to providing our community of families with quality childcare to children of all ages in an ideal atmosphere that enables children to grow mentally, physically, emotionally and confidently. Therefore it is our obligation and commitment to provide quality childcare in a safe, clean, healthy, nurturing, and nutritional environment while assisting children to grow with confidence in a multicultural and multiracial atmosphere. Along with these attributes, children will be given a positive place where they can interact with other children while feeling safe and secure in their surroundings just like their at home. Here they will be allowed the latitude to discover and explore their surroundings. This creates a naturally nurturing environment where children learn through play. In order to achieve this goal we must use other key elements such as creating positive relationships. Communication and confidentiality are some important tools we use to meet individual family needs, allowing us to recognize a child's natural ability and any potential needs in each child's developmental stage. Communication with parents and our community keeps us informed of each family's needs and concerns, which in return will ensure we provide quality childcare and other resources to support your family.
---
---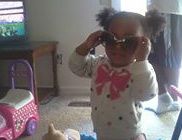 ---
---
---
---
---
DROP OFF AND PICK UP TIMES.

ALL CHILDREN MUST BE PICK UP N TIME. If your child is not pick up on time you will be charged up to a
35.00
late fee if you are more then 20 MINUTES late. And you may think this is a little high but please think about the next parent who has to wait because you are late. We know things come up and we will try to work with you . BUT JUST KNOW YOU WILL BE CHARGE EXTRA OR YOUR TARDINESS!!
---
PLEASE BE ON TIME!

Mrs. Jackie's Christian Daycare Homes
Office of the President
P.O. Box
Kansas City M.O 64134